Online Teaching Exchange Between SoM and UniSalento Successfully Concluded
Publish Time:2022-06-20
View:

31
From May 25 to 26 and from June 15 to 16, Associate Professor Gianluca Elia from the University of Salento, Italy opened an online course Digital Transformation: Key Components and Roadmap. The course was delivered in full English and attracted more than 40 students from the School of Management.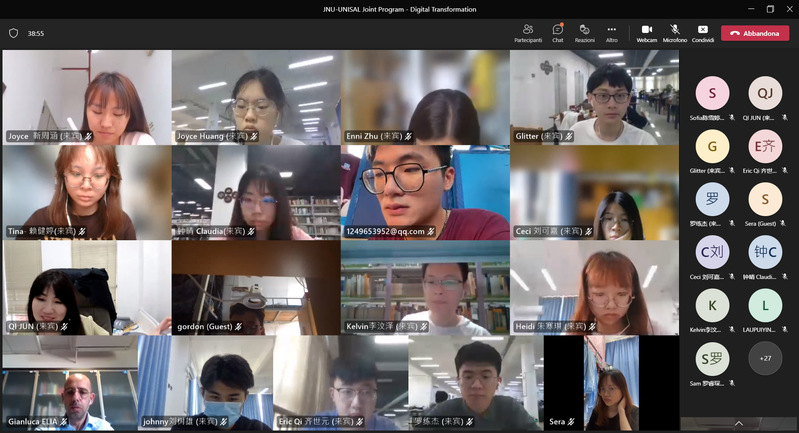 Students attending online seminar
On May 25 and 26, the first session of the course was conducted in the mode of Seminar + Case Study. At the beginning of the course on May 25, Ms. Zhiying Zhou, the project coordinator of SoM, introduced the history of the cooperation between the School of Management, JNU and the University of Salento, and the background of this joint course. Following the introduction, Prof. Gianluca Elia introduced the concepts, trends, key components and roadmap of digital transformation to the students, and answered their questions. On May 26th, Prof. Gianluca Elia discussed with the students the means and performance of digital transformation in different periods of a company using the case of Starbucks: digital transformation. During the case study, students actively participated in the discussion, and Prof. Gianluca Elia had a detailed discussion with and gave feedback to each of them.
On June 15 and 16, the second session of the course took the form of Seminar + Experiment. On June 15, Prof. Gianluca Elia introduced the students to the concepts, operating models, examples and challenges of the digital economy and the digital enterprise. In the experiment session on June 16, students simulated the creation and operation of a digital enterprise through the ODOO platform. During this session, students actively created their own simulated digital enterprises, explored the different digital features in the platform, and interacted with the professor. Through the two modules, students deepened their understanding of key components and roadmap of digital transformation and the operation of digital enterprises.
Prof. Elia presenting ODOO platform to students
Jun Qi, Assistant Dean of the SoM and Director of International Affairs and Public Relations Office, expressed her gratitude to Prof. Gianluca Elia. She mentioned that this mobility was a rare opportunity and that the School hoped to have more exchange activities related to teaching with Prof. Gianluca Elia and the University of Salento in the future.
The course is a teaching mobility project under the framework of Erasmus+ KA107-2019 agreement signed between the School of Management, JNU and the Department of Engineering for Innovation, University of Salento. This project supports one faculty member from each institution to conduct teaching exchange activities at the other institution either physically or virtually. This is the first time that University of Salento conducts online teaching exchange activities for SoM. It is also a new attempt of the School in international exchange and cooperation under Covid-19, which lays the foundation for subsequent online exchanges with more partner institutions.