JNU-UNISAL Joint Program Open Lecture | Technology Road-mapping: Supporting Product and Technology Planning
Publish Time:2022-05-19
View:

69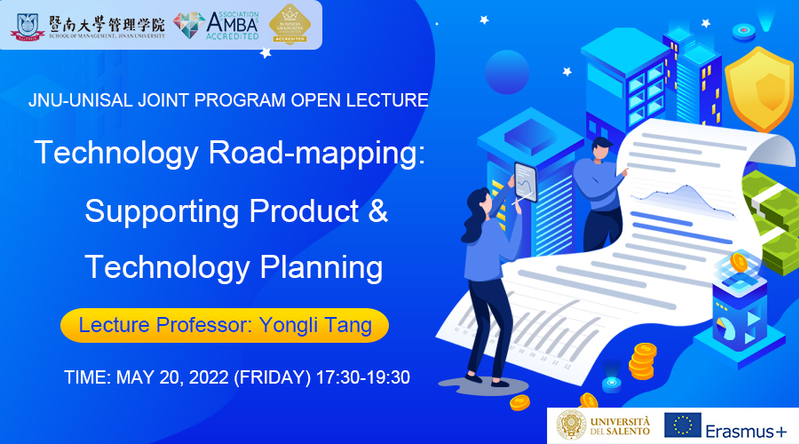 JNU-UNISAL Joint Program
Technology Road-mapping: Supporting Product and Technology Planning
Session One: Open Lecture
Program Outline:
The program focuses on technology road-mapping (TRM), a widely used tool for supporting product and technology planning by technology companies globally. It includes an introduction, a group exercise project for developing a roadmap, and a final plenary session for group presentation. The introduction part presents the architecture and process of TRM. This session is an open lecture for University of Salento and Jinan University. The latter two sessions are open only to University of Salento postgraduate students. The group project is framed for a hypothetical traditional bicycle company that recently made a strategy to embrace the new digital and AI technologies, and planned to launch a new intelligent bike called iBike. Each group is required to develop an i-Bike roadmap using a 4-workshop process. The outcome roadmap is presented at the final plenary session.
Open Lecture Introduction:
Presenting the architecture and process of the technology road-mapping.
Open to postgraduate students of the Department of Engineering for Innovation, University of Salento, Italy, and students of Jinan University.
Lecture Professor:
Yongli Tang, Professor/Ph.D. Supervisor, School of Management, Jinan University
Language of Instruction: English
Lecture Time:
May 20, 2022 (Friday) 17:30-19:30
Lecture Link:
Interested students can directly click the Teams link below or copy the link to the computer browser. No need to download the software. (If you open the link with a mobile phone, you need to download the application.)
https://teams.microsoft.com/l/meetup-join/19%3aFgywwgFgC9YlqVjJM4V8tuvzLu7yPWQ96uO-6f5rpqI1%40thread.tacv2/1652800945126?context=%7b%22Tid%22%3a%228d49eb30-429e-4944-8349-dee009bdd7da%22%2c%22Oid%22%3a%22c0da1dc3-3b0b-4671-9ecd-69df43094841%22%7d