New Partnership Between Guangdong and Hong Kong HEI - SoM Signed MoU with Faculty of Business, Lingnan University
Publish Time:2022-11-23
View:

11
On November 11, the School of Management, Jinan University and the Faculty of Business, Lingnan University signed a memorandum of understanding in the form of cloud meeting. Director Ruoqian Pu and Deputy Director Yu Wang of the International Office of Jinan University, Dean Wenjing Li and Assistant Dean Jun Qi and colleagues from the International Affairs Office of the School of Management attended this signing ceremony.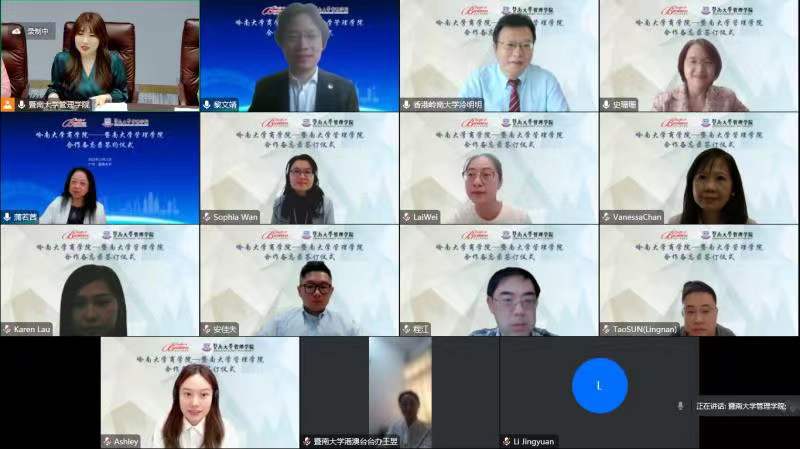 Virtual group photo
Wenjing Li said in his speech that both the School of Management of Jinan University and the Faculty of Business of Lingnan University are long-established business schools with roots in the Guangdong-Hong Kong-Macao Greater Bay Area, and both have the mission of optimizing regional cooperation, promoting the deep integration and development of the Greater Bay Area, and cultivating outstanding talents to serve the national society. He hopes that both sides will complement each other's strengths and join forces in order to work together to promote high-level scientific research and cultivate talents in the GBA.
Mingming Leng, Dean of Faculty of Business of Lingnan University, said that both schools have outstanding achievements in research and academics, business teaching and talent training, laying a good foundation for both sides to integrate resources and establish a solid partnership. He hopes to start substantive cooperation as soon as possible after the signing of the MoU, which will surely bring more fruitful and mutually beneficial results to both sides.
Both parties presenting signed agreement

Jinan University is known as the most excellent HEI for overseas Chinese, actively implementing the policy of facing overseas, facing Hong Kong, Macao and Taiwan, and is a national double first-class university, ranked 138 in 2021 by QS Asia. Jinan University is one of the first national HEIs in China to provide business education. All undergraduate majors in the School of Management of Jinan University are national first-class undergraduate majors, and have been accredited by the Association of MBAs (AMBA), the Business Graduates Association (BGA) and the Association to Advance Collegiate Schools of Business (AACSB).
Lingnan University is a founding member of the Alliance of Asian Liberal Arts Universities (AALAU), a member of the Global Liberal Arts Alliance (GLAA), the Beijing-Hong Kong Universities Alliance, the Guangdong-Hong Kong-Macau University Alliance, and the Shanghai-Hong Kong University Alliance, with liberal arts education as its characteristic and diversified teaching mode. In the Times Higher Education World University Impact Rankings 2022, Lingnan University is ranked third in the world for Quality Education. Its Faculty of Business is accredited by AACSB, and is ranked 25th in China mainland in the UT Dallas World Business Rankings by the number of top business journals published in the past 10 years.
After the signing of this MoU, in the first phase of cooperation, the School of Management and Lingnan University School of Business will establish a joint research center dedicated to the direction of frontier topics in economics and finance, and carry out research cooperation around areas of common interest. In the future, both parties will further deepen practical cooperation in joint training of high-level talents and exchange of faculty and students in phases.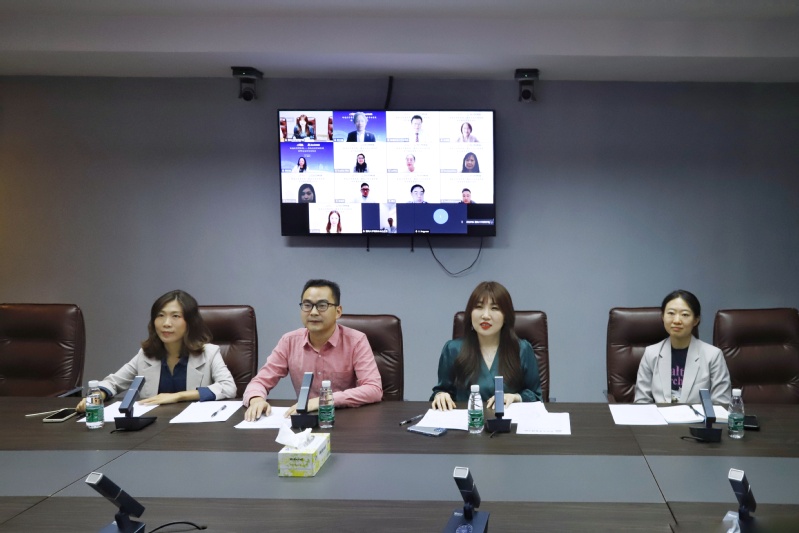 Scene of signing ceremony