To Be a Better One--My JINAN Diary
Publish Time:2016-12-09
View:

120
Till now it has been three months Since I came to Guangzhou.
Majority of people in this place would say, that they remember this moment like yesterday and it's unbelievable that time passes so quickly. According to me, of course agree that time passes very quickly, but being honest I have feeling that I came here couple of years ago and what is more I had been completely different person before. Living in China, far away from my family, friends and everything what seemed familiar, gave me new perspective about Asia, priceless knowledge about beautiful Chinese tradition and culture and personally helped me to be more self – aware and independent. At the university, I have an opportunity to study with MBA students from all over the world, which is sometimes very challenging for me – undergraduate student and I really appreciate this opportunity.
Very often people asked me why did I choose China among all different countries. I'm Finance and Accounting student, that's why sometimes I answer that I wanted to see how second biggest economy of the world looks from inside.In this reason is contained also another one. I really like sentence "It's all about people". Before in Poland I met a lot of Chinese students, who were both exchange students from Jinan University and volunteers from my students' organization AIESEC. Some of them I will meet travelling in Singapore and Hong Kong, some I already met in China. It showed me how small world actually is and how much people are similar to each other. Everyday it surprises me more and more, when I see here in Guangzhou similarities between Polish and Chinese. Hospitality, family bonds, being preservative at the beginning – all those things help me to make myself comfortable here. My only wish is to one day come to China and see that young girls do not consider me as beautiful, because my skin is a little whiter. Because it's not about color it's about people.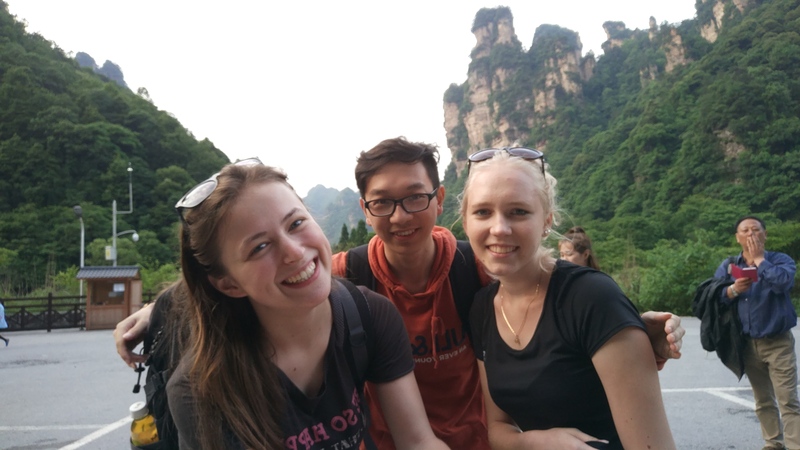 At the end, I would like to show my actual diary's notes. It shows the difference in my perception after 2 months. Let's see what is going to happen at the end. I'm sure with one thing, I will come back to Poland smarter with the knowledge, which only living in China, can teach me J
2.03.2016
It's my third day in China, just picked up my new student's card and went for first Chinese lunch in canteen. Unluckily forgot that I don't have fork and spoon with me and ordered soup with noodles. It's easy to guess that I had a lot of difficulties eating them.
30.04.2016
After two months, my father came from Poland to visit me. During one of many dinners which we took together, I was given both chopsticks, fork and knife. My father has chosen fork and knife, but what about me, how do you think? J