‍‍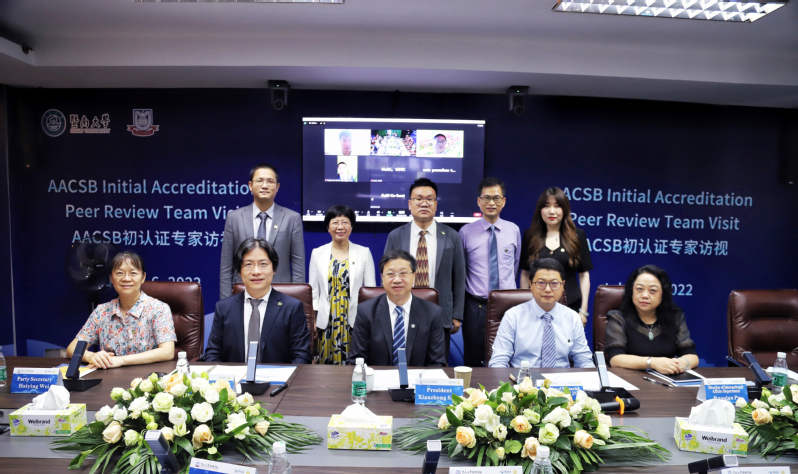 Jinan University and AACSB
The School of Management (SoM), Jinan University became a member of Association to Advance Collegiate Schools of Business (AACSB) in 2010, and passed the Eligibility Application in 2017. After completing multiple rounds of evaluation, including the initial self-evaluation report, progress report, and the final self-evaluation report, we came to the final step of peer-review team visit in 2022.
On October 31st, 2022, AACSB issued an official announcement that after being voted and approved by the Initial Accreditation Committee and the Board of Directors, School of Management, Jinan University has earned the five-year AACSB Business Accreditation. SoM becomes the 40th business school that is AACSB accredited in China mainland.
What is AACSB?
AACSB – The Association to Advance Collegiate Schools of Business connects educators, students, and business to achieve a common goal: Create the next generation of great leaders.
Synonymous with the highest standards of excellence since 1916, AACSB provides quality assurance, business education intelligence, and professional development services to over 1,600 member organizations and more than 850 Accredited business schools worldwide.
Members of the AACSB Business Education Alliance are united to improve the quality of business education around the world. AACSB connects, shares, and inspires innovation and quality throughout the member network, as well as the business community. The collective strength of the organization is founded on diverse perspectives, a global mindset, and a commitment to making a difference.
Why is AACSB Accreditation important to a business school?
AACSB Accreditation ensures a school is providing its students with a challenging, relevant education that prepares them for the business world.
In order to earn and sustain business accreditation, an institution must align with a set of 15 business accreditation standards that focus on mission and strategic management; support for students, faculty, and staff; learning and teaching; and academic and professional engagement of students and faculty.
The accreditation process is a rigorous process that ensures business schools are delivering the best in business education. When schools display the AACSB Accreditation seal, it sends a signal to the world that graduates and alumni from their insitution are prepared to lead in today's competitive, global business environment.